Rock for People 2020 hlásí vyprodáno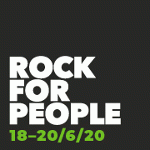 31. 01. 2020
   |   
Autor:
 redakce   |   
Komentáře
(6)
(Promotion) Šestadvacátý ročník festivalu Rock for People přivítá mezi 18. - 20. červnem několik desítek hvězd zahraniční a české scény. Letošními headlinery jsou pětinásobní nositelé Grammy a členové rock'n'rollové síně slávy Green Day, američtí rockeři Fall Out Boy a Weezer nebo populární britští pop-rockeři The 1975.
Na ně a desítky dalších se sjedou lidé z České republiky i okolních států - stovky návštěvníků přijedou z Polska, Německa či Velké Británie, organizátoři ale zaznamenali zájem také ze vzdálenějších destinací jako Japonsko.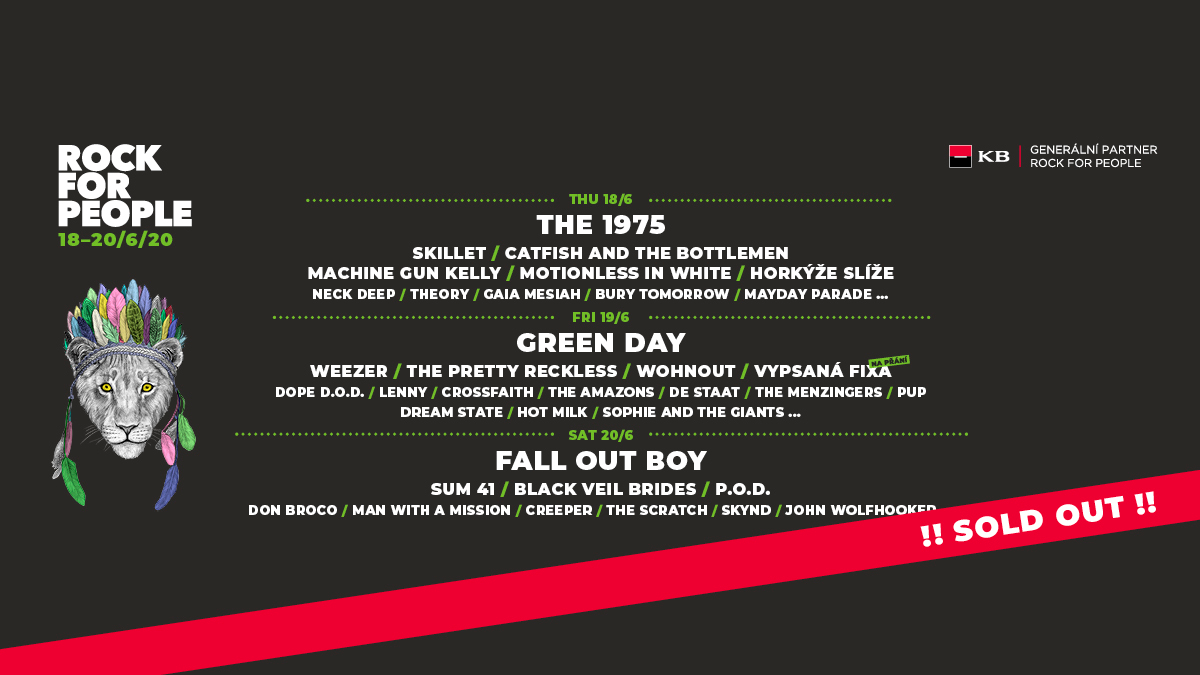 Rock for People tak oznamuje vyprodání celofestivalových vstupenek, zbývá jen minimum jednodenních a VIP lístků.
"Historicky první vyprodání vstupenek na Rock for People vnímáme s ohromnou radostí, ale také jako velký závazek vůči návštěvníkům festivalu. Těm pravidelným chceme zachovat komfort, na který jsou zvyklí, nové chceme překvapit naším festivalovým areálem a všem pak připravit jedinečný festivalový zážitek. Těm, kteří se k nám letos nedostanou doporučujeme, ať na nějaký festival určitě vyrazí. A není důležité, zda to budou Pohoda, Mighty Sounds či Colours of Ostrava, jejichž mezinárodní line-upy jsou letos mimořádné. Klidně to může být i lokální festival s kapelami z regionu, "
říká ředitel Rock for People Michal Thomes.
"Vyprodání festivalu Rock for People jen dokládá stoupající oblibu festivalů, kterou sami pozorujeme v posledních letech. S tím přichází i nárůst kvality programů a komfortu, což nás samozřejmě těší," dodává Marek Vohralík, ředitel FESTAS - festivalové asociace.
Z pódií na královéhradeckém letišti se nebude linout jen rock. Festival nabídne pestrou žánrovou paletu - např. neopunkery Sum 41, rappera Machine Gun Kellyho, potemnělou tvář hip hopu představí nizozemští Dope D.O.D. Indie rockeři Catfish and the Bottlemen se na Rock for People vrací v pozici hvězd a headlinerů mnoha slavných festivalů.
Dále se představí glam metalisté Black Veil Brides, metalcoroví Motionless in White, Crossfaith i Bury Tomorrow, rockeři The Pretty Reckless, indie pop-rock v podání britských Sophie and the Giants či české zpěvačky Lenny, nebude chybět ani fúze tradiční irské hudby s tvrdšími žánry The Scratch. Po nabitých podzimních koncertech v Brně a Praze se vrací také memphiská čtveřice Skillet, kloubící prvky metalu, hard rocku a elektroniky. Dárek fanouškům naservíruje Vypsaná Fixa, která sestaví festivalový set dle přání svých posluchačů.
Držitelé vstupenek se navíc v následujících týdnech mohou těšit na odkrytí dalších položek programu. Festival nabídne mimo jiné zajímavé diskuze, workshopy, sportovní vyžití a pestrý gastronomický výběr.
Rock for People pořádá agentura Ameba Production stojící také za koncertní sérií Rock for People Concerts, Prague Summer Festival nebo podzimní hudební konferencí a přehlídkou Nouvelle Prague.
Více informací o festivalu a program naleznete na
rockforpeople.cz
Dodal: Anna Mašátová, Anna Mašátová Promotions
DISKUZE
Jméno:                   Nadpis:   
Zadejte číslo 144:
jones kelly | 11. 06. 2022 | 11:23:44
Tadarise Oral Jelly: The Best Male Enhancement Pil
Tadarise Oral Jelly is one of the most effective pills of ED. Tadalafil acts as the main ingredient in tadarise oral jelly. It is very helpful to maintain erection at the time of physcial intercourse. https://www.beemedz.com/tadarise-oral-jelly/
Richard | 14. 03. 2022 | 03:08:36
YoutubeTV
tv.youtube.com/start tv.youtube.comstart
Richard | 14. 03. 2022 | 03:08:28
YoutubeTV
YouTube TV – One of the most popular streaming services, comes with extensive DVR support, simultaneous viewing, multiple profiles and a comprehensive list of channels. It all comes at the cost of $64.99 per month. Check out official website for more information. Here is a step by step guide for activating YoutubeTV. For any other YoutubeTV related issues please do visit website - tv.youtube.com/start tv.youtube.comstart
Richard | 14. 03. 2022 | 03:08:19
YoutubeTV
YouTube TV – One of the most popular streaming services, comes with extensive DVR support, simultaneous viewing, multiple profiles and a comprehensive list of channels. It all comes at the cost of $64.99 per month. Check out official website for more information. Here is a step by step guide for activating YoutubeTV. For any other YoutubeTV related issues please do visit website - tv.youtube.com/start tv.youtube.comstart tv.youtube.com/start.com tv youtube com start tv.youtube.com/start enter code youtbtv
Richard | 14. 03. 2022 | 03:08:04
YoutubeTV
<a href="https://www.youtvstart.com/">YouTubeTV</a> – One of the most popular streaming services, comes with extensive DVR support, simultaneous viewing, multiple profiles and a comprehensive list of channels. It all comes at the cost of $64.99 per month. Check out official website for more information. Here is a step by step guide for activating <a href="https://www.youtvstart.com/">YoutubeTV</a>. For any other <a href="https://www.youtvstart.com/">YouTubeTV</a> related issues please do visit website - <a href="https://www.youtvstart.com/">tv.youtube.com/start</a> <a href="https://www.youtvstart.com/">tv.youtube.comstart</a> <a href="https://www.youtvstart.com/">tv.youtube.com/start.com</a> <a href="https://www.youtvstart.com/">tv youtube com start</a> <a href="https://www.youtvstart.com/">tv.youtube.com/start enter code</a> <a href="https://www.youtvstart.com/">youtbtv</a> <a href="https://www.youtvstart.com/">tv.youtube.cok/start</a> <a href="https://www.youtvstart.com/">youtube.com /start</a> <a href="https://www.youtvstart.com/">youtubetv comstart</a> <a href="https://www.youtvstart.com/">www.tv.youtube.comstart</a> <a href="https://www.youtvstart.com/">tv.youtube.comtstart</a> <a href="https://www.youtvstart.com/">www.youtubetv.com/start</a> <a href="https://www.youtvstart.com/">www.tv.youtube.com/start</a> <a href="https://www.youtvstart.com/">https://www.tv.youtube.com/start</a> <a href="https://www.youtvstart.com/">youtubetv.start</a>
Richard | 14. 03. 2022 | 03:07:46
YoutubeTV
[url=https://www.youtvstart.com]YouTube TV[/url] – One of the most popular streaming services, comes with extensive DVR support, simultaneous viewing, multiple profiles and a comprehensive list of channels. It all comes at the cost of $64.99 per month. Check out official website for more information. Here is a step by step guide for activating [url=https://www.youtvstart.com]YoutubeTV[/url]. For any other [url=https://www.youtvstart.com]YoutubeTV[/url] related issues please do visit website - [url=https://www.youtvstart.com]tv.youtube.com/start[/url] [url=https://www.youtvstart.com]tv.youtube.comstart[/url] [url=https://www.youtvstart.com]tv.youtube.com/start.com[/url] [url=https://www.youtvstart.com]tv youtube com start[/url] [url=https://www.youtvstart.com]tv.youtube.com/start enter code[/url] [url=https://www.youtvstart.com]youtbtv[/url] [url=https://www.youtvstart.com]tv.youtube.cok/start[/url] [url=https://www.youtvstart.com]youtube.com /start[/url] [url=https://www.youtvstart.com]youtubetv comstart[/url] [url=https://www.youtvstart.com]www.tv.youtube.comstart[/url] [url=https://www.youtvstart.com]tv.youtube.comtstart[/url] [url=https://www.youtvstart.com]www.youtubetv.com/start[/url] [url=https://www.youtvstart.com]www.tv.youtube.com/start[/url] [url=https://www.youtvstart.com]https://www.tv.youtube.com/start[/url] [url=https://www.youtvstart.com]youtubetv.start[/url]